Calendars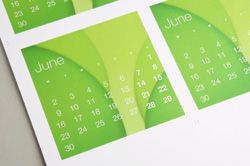 With a custom calendar, your customer can be in front of their target audience 365 days a year! Calendars are a functional promotional item that will be used throughout the year! They are a great place to offer monthly discounts, promote products or provide information on upcoming events!
BCT offers so many options to choose from to fit your customer's needs…
- Wall calendars can be saddle stitched or coil bound
- Magnet calendars – from business card size to 12 x 18
- Business cards or fold over cards make great wallet calendars
- 3.25 x 8.5 on cover stock can be used as statement stuffers
The only limitation is your imagination! Contact you representative to quote your custom calendar project!